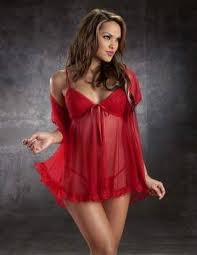 You put a lot of time and effort on picking up your wedding dress, but you do not put half that effort when it comes to picking your wedding lingerie. The world won't be able to see what you are wearing underneath that beautiful gown, but it will help you feel beautiful if you wear sexy lacy lingerie underneath your gown. Moreover, the sexy lingerie will help you spice up your wedding night. Here are four types of lingerie that you can choose from to bring out the naughty side of you –
1. Bustier

The bustier will give you a nice strong support for your heavy gown and also enhance your figure. You can get a bustier which has a zipper on the front for easy wearing. Do not wear something in a boring monotone; try bridal bustier with lace and intricate embroidery. Team it up with a lacy white panty and stockings. There are many lingerie designers who can design these for you, so they have the same detailing.
2. Bridal Corsets

If you are bride who isn't afraid to embrace her sexy and naughty side you can go ahead and wear a bridal corset. The corset hides what your tummy and enhances your bust line making you look sexy. It looks beautiful with strapless gowns that have a tapered look till the waist. Wear a bridal corset made from lace and intricate motifs with small stones. Make sure you are comfortable in the corset and do not tie it too tightly as that will make you feel uncomfortable as the day progresses.
3. Seamless Lingerie

If you are wearing a tailored dress that hugs your figure you would want to avoid visible panty and bra lines. In such a case you can opt for seamless lingerie. When you think of seamless, you do not have to think of boring t-shirt bras and high waisted panties. There is beautiful looking bridal lingerie that is seamless. They will flatter your figure and also help you avoid those visible lines.
4. Chemise

When you are wearing a free flowing gown for your wedding, you can slip in a well-fitted satin chemise underneath it. This short lingerie can give you support while also being comfortable and airy.
Important Tip

When it comes to lingerie white can be a little dull. Are you choosing white only because you are wearing a white gown? Think again. Nowadays gowns are made in such fashion that your lingerie isn't visible from underneath. You can therefore where lingerie of whatever colour you want. Try out bright red, black, navy blue, plum or even soft pink colours for your bridal lingerie.
Spend some time trying on different styles of lingerie and seeing which one goes well with your wedding dress. There are many different styles of women's sexy lingerie to choose from. Choose one that meets your need and matches your style; gives you enough support, fits you well and doesn't make you uncomfortable.