Are men and women so different that they can possibly have different meanings for the famous words "I need some space." Yes many times when a woman's definition of I need space can be a lot different than a man's definition of these words. If you have not read the post on what men mean when they need space then go check that post out but for now we are focusing on our women and they mean when they say these words.
Many times when a women is in a committed relationship, very seldomly is she looking for a way to step out, rather many women are looking for a man that is just as committed as she is. Now this is not to say that you don't have your women players out there looking to have a good time, while trying to hold down a relationship all at the same time but for the most part I want to believe that most women have their man and are looking to keep their man.
So if your woman was to tell you that she needs her space, what is she asking you for exactly? This is a definite tough one for the simple fact that most women don't ever really know what they want.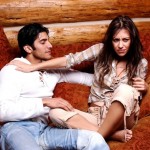 Space is a word used for women to get you either out of their hair, meaning you might be a little too attached for her liking, space can mean that she needs time to think about what she's doing with someone like you and whether or not the relationship is worth her time, space can mean that she just needs time to be away from the stresses of a relationship and just needs some "me" time, space can mean that she is trying to get your attention by scaring you into thinking that she might not want to be with you. Space for a woman, can basically mean a whole lot or really nothing at all. So ultimately it depends on where your relationship is.
If your in a relationship and everything seems to be going well and all of a sudden a woman is asking for space then maybe you need to be asking your woman some questions and trying to get done to her real reasons for asking for this space. If things in the relationship aren't going so well, then as a man you need to definitely get what I like to call "your chips up" meaning you need to be putting in some overtime in your relationship if you are looking for it to work.
In marriage Does I need space means divorce for women? – Why you must Opt for Marriage Counseling over Divorce
If a woman is asking you for space then find out what kind of space she's looking for, maybe she's stressed out or maybe your doing something that is constantly upsetting her or making her unhappy. If you want the relationship to work, then make sure that you guys have good communication as to why things are the way they are and what it is you both can do to make it better.
I understand that some times you may not be able to find out what's wrong with your woman, in cases like that you must seek professional help. You must seek a couple counselor, a marriage counselor, someone that will help you see what the problems in your relationship are and help you fix them. There many problems that people face in relationships nowadays take a look at the 7 most common relationship problems and how to fix them.
xoxo