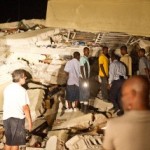 Hey everyone…As many of you may have already heard, an earthquake of 7.0 hit the island of Haiti, small Caribbean island found in the western hemisphere yesterday afternoon and it has been said by numerous sources that perhaps thousands have lost their lives, many people are left without shelter, clothing, food, and many are in desperate need of healthcare.
 We cannot begin to imagine the toll this has taken on this very small island that has experienced numerous terrible hurricanes in the past and now this. Please say a prayer for those that are there and also for those individuals that have lost a loved one or haven't been able to get in contact with their loved ones.
 There are many people here in the States that have their loved ones living in Port au Prince or in cities near by that have been affected by this terrible tragedy. The things we talk about want to simply take some time and invite anyone that can to please donate whatever it is you can to either the Red Cross www.redcross.org or Wyclef Jean's organization yele, which more information can be found on his website www.yele.org. Remember we all one race, the human race!
Thanks again,
The Things We Talk About