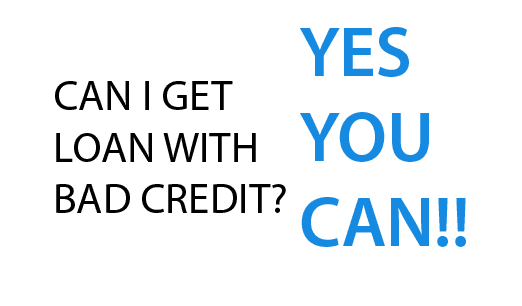 Can I get a personal loan with bad credit?
One of the things that my father taught me when I was young was to make sure I have good credit because it will come in handy.  I must say that he was right because when it was time for me to buy my first car, I got a great deal and a very low interest rate on my car. You may ask how I kept my credit in good standing, well here are some of the things that I did and still doing today:
Pay my bills on time
 I do automatic payment for car insurance, car note, and school loans.
Keep track of my credit score
Don't spend more than 30% of my credit card
Don't have a ton of credit cards.
Now enough about me, let's address the individuals that have bad credit and some of the reasons why:
Some people have bad credit because they were not careful when it comes to how they spend, how much they spend and how much they have left.
One thing about spending money is that if it's not yours, you have to repay it.
Others may have had life-changing events like getting laid off due to the drastic change in the market.
Others poor credit history may be due to identity theft.
Whatever the reason your credit is not good, you are able to rebuild it and get a personal loan.
If you are asking, "can I get a personal loan with bad credit?" well I can honestly say yes. You are able to get a personal loan with bad credit but there are a few things you have to be aware of first.
Make sure you understand the loan you are going to take, what are the terms and conditions
Understand the interest that will come with the personal loan that you are applying for and since you have bad credit be aware that the personal loan will most likely have a higher interest rate.
For instance,  one of the things many people decide they need a personal loan for maybe to get a new car, or may have an emergent situation and may not have the necessary funds at hand, so we get excited when we see a billboard or a commercial that says "Bad Credit, No Problem". Well, in a situation like this be wary of what they are offering because you should know that with bad credit they may be a problem. Many times what they are not telling you is that they are going to make your situation in the long run worse than it is because the interest they will give you on that car or personal loan will be high.
Getting a Personal Loan with Bad credit through a Credit Union
Now many people ask whether they would be able to obtain a personal loan with bad credit via a credit union? The answer to this question is yes you but you will have to do your homework first by taking into account the 2 things I mentioned above.
I have a friend of mine that needed to buy a car and me having gone through a credit union to get a personal loan for my car, I referred him to a credit union as well and he was able to get a loan from them and got his car.  I sent him to a credit union because I feel that they are more understanding than regular banks. Credit unions are usually member-owned and they tend to a better option sometimes for individuals that may not have the best or ideal credit score that most banks would prefer you to have.
LendingClub as a Peer-to-Peer Personal Loan option
My second recommendation is to use a lending club aka Peer to Peer loan.
Lending Club is a peer to peer lending company that provides great loans with low interest rate. The way this works basically is that a group of people all over the country have money and they will lend money to others that are in need. Look at it this way, Lending club is similar to your dating sites, it links individuals that are willing to lend people money and the people that need the loan together.
The main reason I would put this site on my page is that extensive research has been done on them and they are accredited by the BBB. They have all the right signs of a legit business. Google is an investor as well with this company. Again as I always say, be sure before you do anything that you do a sufficient amount of research where you are comfortable with the decisions that you are making.
In summary, I know how easily one's credit can be dismantled, especially when we fail to do the some of the things I've spoken of above. But if you find yourself in this situation, work on improving your credit score of course but take a look at some of the options I've stated above to help you get on your feet until then. Hope this information helps, and as always see you in the near future.
Please share with a friend!