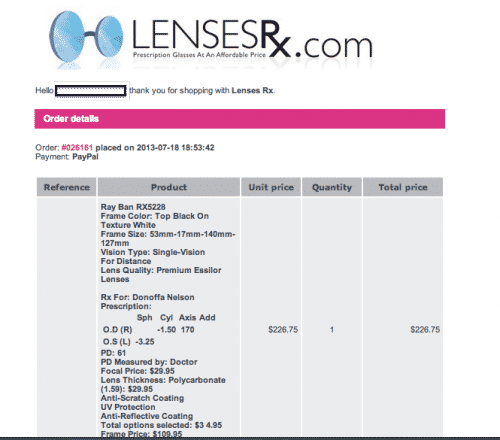 Cheap Prescription Eyeglasses online: A Lensesrx.com Review
So about a year ago, I was in need of getting a new pair of prescription eyeglasses. I went through the entire formality of seeing my eye doctor and having my regular eye exam after I was done having my exam, the lovely saleswoman took me over to the eyeglasses section to help me decide which glasses and lenses I would need. After looking through the various eyewear and seeing the astronomical prices for the various brands they carried, I knew that I just had to find another option.
Now mind you, I'm a college student on a budget, barely have a decent insurance to my name, and so I knew I couldn't afford to spend hundreds of dollars on not only the eyeglasses but the prescription lenses that I would need, and not to mention the additional specs like polycarbonate and antireflective lenses I was used to wearing when my parents bought me my old pair. Now for anyone that wears glasses on a daily bases and likes to look fashionable, cute, sexy, having the right eyewear is extremely important. I think it's imperative that everyone finds the glasses that suit their features and of course their personality as well.
My REALIZATION
So, after quickly realizing that I couldn't afford to buy this particular store's expensive eyewear, I knew I had to find a cheap or more affordable option that would give me the same name brand, style, and lenses I would need that would fit my college budget. After thoroughly searching online and reading various reviews (which is what I normally do for mostly everything), I came across a site called lensesrx.com.
Now at first, I was a bit of a skeptic because I couldn't believe how cheap and yes I mean cheap the cost was for name brand glasses, prescription glasses, and sunglasses. I just didn't think that these were legitimate items, non-counterfeited items for that price. To be honest with you, I couldn't believe how much the store I was about to spend my hard earned money was about to charge me, for something that lensesrx.com was charging me for half the price.
MY BIG CONCERN
My biggest concern of course while going through the process was whether or not the glasses were the luxury brand Lensesrx claimed them to be, whether or not they would be able to get my prescription right, and whether or not if something went wrong with my order LensesRX would be willing to refund or exchange my order. Well after doing all the research I could and read other reviews on lensesRx, which is always my suggestion when making online purchases, I took the plunge and ordered my eyeglasses online with LensesRx.
The process was pretty simple, I first chose the lenses that I wanted which were the RayBan RX5228 (the ones I fell in love with in the store), then I sent them a photocopy of my prescription signed by my optometrist with the information they needed, also I had my doctor measure a PD (pupillary distance) for me in the office since the site asked that I have that done.
Then I added the type of lenses that I wanted, the quality, frame type, and the size and of course added UV protection and anti-reflective coating (something the store was charging me a couple of hundred dollars more for) and then I submitted my order. Now initially it said it would take some time for it to ship but nope my glasses were shipped within a few days and they were perfect. I was so excited that I even went back to the store to look at the eyeglasses there just for a side-by-side comparison, and yup everything was spot on.  Little did they know how much I saved by not purchasing my glasses at that particular store.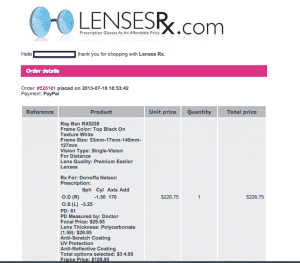 FINAL THOUGHTS AND CONS
Now a review wouldn't be a review of course without stating the cons so here they are, the frames did fit perfectly when I initially got them and now they slide down my nose a little bit, maybe I've lost some weight or maybe it's the frame themselves but that is no big deal for me since it's easy to adjust them. Another con would be my lenses seem to get a little bit dirty throughout the day and I have to constantly wipe them and clean them, again maybe it's me or the work that I do, who really knows. Other than those two things that annoy me about glasses in general, I really have no complaints.
I love them and I always get so many compliments on how cute and sexy my eyeglasses are, which is exactly what I love to hear. So with that being said, I would definitely recommend this site, lensesrx.com to anyone who wants cheap prescription eyeglasses, and even sunglasses to anyone  looking to save money, for a cheap or affordable alternative eyeglasses as opposed to what is being offered in the stores, and who still loves the name brands for much less. Like I always say, be sure to do your own research and buy smart.