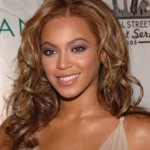 Ok so in a previous post, I mentioned how a lot of the celebrities love their full lace wigs or indian/chinese virgin hair, e.g Beyonce Knowles, Tyra Banks, Ashanti, Kelly, Lil Kim, Ciara, etc. The idea of these wigs are relatively new and are becoming more and more apparent on the market and there are places you can find them. If you happen to live in the Miami, Fl area or if you happen to know of Elegant Beauty Supply store they now carry these full lace wigs and also the glue or tape to attach these wigs.
Now there are two different types of lace wigs to look out for, the more expensive one is of course the full lace wigs, but they do have on that just has the lace in the very front, which you can get for about half the price. For those of you familiar with these wigs, you know that the price ranges from about $400 and up, but the front lace starts at about $200. If you don't like the idea of wearing wigs and you would much rather do a sew in with virgin indian hair, well there is a company where you can order this hair from.
I will be posting the link at the end of the post, so look out for it. Of the two remy hair, the Chinese is known to be a lot more superior, which makes it a bit more expensive, but the indian is also very fabulous and will definitely have you looking and feeling good.
Now mind you the hair is kind of expensive but nothing comparing to what I'm sure the hot celebrities that everyone wants to look like are spending. So basically this is going to be a look for less in comparison to them, which is what we try to bring you here on the Things We Talk About.
So for all of you interested, you can go check out http://www.indianhaircompany.com. Also, you don't need to spend a lot of money in applying these wigs you can learn by looking up videos on you tube on how to apply them because you will end up spending more money on application that it did to purchase the wig.
Also I will be writing a post on how to properly care for you full lace wig in order for it to last you a very long time. So stay tune…By the way these wigs aren't only made for African American women but anyone can wear them especially those that have lost their hair through cancer or any other disease.