Don't give up on God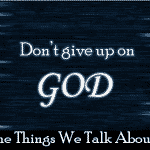 So many times, I find myself wondering exactly how exactly God will make a way out of what seems to be no way. I'm not sure how many of you may feel like this but I find this to be more times than I can actually count. The saddest part of all is that anytime I find myself in a situation and I really don't know how it will turn out, I begin to doubt and forget at how good God has been to me and how he has done things for me beyond my wildest dreams.
You see, God ask us to do something that is so simple, which is trust and believe in him and know that he will never let us down, you see where God sits on his throne, no one can move him. He reigns forever and despite what life may throw our way, he is ultimately in control. To say that we will not go through rough patches is an understatement, sometimes I feel like the devil will continously test us to see if we will forget how good God truly is but we just have to remember that the devil is a liar and that he never wins in any battle against the True and Faithful.
Now one thing I know I have struggled with is, I'm doing everything that God is asking me to do but yet I still feel like God isn't answering my prayers, what is that about? Well, I think it goes back to what I have said before God works in ways that is simply beyond our imaginations. God answers prayers and does things on his time and that's just something that we can't change but we can learn to appreciate because God knows what we need and when we need it. Again he will never let us down, so we shouldn't let him down by not believing in his power.
I know we all go through things in this life that can make us start to wonder about the power of God, but it is so important that we bring ourselves back to those times where he has made a way when we knew there was absolutely no way.  I just want to thank God for all of the things he has done and will continue to do on my behalf in my life. I hope you all can do the same! God Bless!