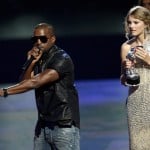 So the VMAs were held in New York this year and I think this was the best one of my time thus far. Madonna opened the VMA with the Michael Jackson tribute. She talked about Michael, their date, their friendship but most importantly how most of Michael's friends abandoned him when he was going through his legal issues. I'm glad someone said it because they sure did!!! In the beginning they had dancers dressed in different Michael Jackson apparel who danced to his songs. I loved every minute of the tribute. After that Janet performed to their song "Scream" which was great. Janet killed the whole performance. While she performed she was edited out of the video while on the big screen you saw Michael and she performed onstage. She did their memorable dance in the video when they danced together. That was a heartfelt performance, I almost cried. Is it me or did MTV nail the Michael Jackson tribute better than BET… well some might argue that MTV had more time but I'm looking at the bigger picture, if you're better at your craft; time frame shouldn't play a big factor.

So Poor Taylor Swift never saw this one coming… lol Taylor Swift won best female video for "You Belong with Me" which is a good song but I don't think it should have won and she looked surprised just like me. The other nominees were Beyoncé, Pink, Lady Gaga and Britney Spears so come on, but who doesn't like an underdog. The competition was stiff but I didn't expect her to win and so didn't Kanye West. So while she's saying her acceptance speech Mr. Ego aka Kanye West interrupts her and tells her his two senses about the situation. "Taylor, I'm really happy for you, and I'm gonna let you finish, but Beyoncé had one of the best videos of all time," said Kanye. Wow… I felt so bad for her; she was so shocked that she couldn't even finish her speech. DAMN KANYE another one bites the dust but one thing you can't say is that he told the world HE GOTTA BIG EGO lol After that horrible experience Taylor had to perform right after which I can say was actually good. Kanye is Kanye nothing more or nothing less, you gotta love him for that.
Lady Gaga's performance was good but disturbing. I personally like Lady Gaga and everything she does so I didn't mind the whole blood thing because I like the song and I understood the whole concept. Tonight she was on her weird mode with her appearance, what she wore, and her date Kermit the frog. Lol WTF but despite all of that you can't deny that this lady has skills. BTW was I the only one who noticed she made it her mission to wear panties on stage to put an end to the hermaphrodite rumors. I don't know why they call beautiful singers who can dance hermaphrodites, her and Ciara need to do a song together lol
Beyoncé also performed "Single Ladies (Put A Ring On It)" like always it was good. Being that Beyoncé is such a nice person once she won video of the year for "Single Ladies (Put A Ring On It)" she recalls winning her first VMA and calls out Taylor Swift to have her moment. AWWWW You can't hate Beyoncé no matter how hard you try because she always does things like that. Lol I'm glad Taylor got to finish her acceptance speech.
Pink's performance was good. She was on the rope things called trapeze flip and flopping and it was different. I loved how she copied Lil' Kim and had a sticker of her nipple while she performed… I don't blame her since her and Shakira wore the same outfit. Next time I bet she'll bring a change of clothes… BTW she was with Carey Hart her ex-husband whom she wrote "So What" about… IDK their relationship is weird one day their together and the next day their not but hey at the end of the day it is what it is. I still love her.
So Jay Z closed the VMA with a performance with Alicia Keys. The performance was good and close to the end of the performance out of nowhere comes Lil Mama. WTF I don't even think she was a part of the show. Jay Z didn't even acknowledge her… DAMN seems to me like she tried to pull a Kanye but was unsuccessful LMAO.
The 2009 MTV VMA's rocked, if you missed it try to catch a re-run. The host Russell Brand was funny. Overall it was good and the facebook and twitter updates made it even better lol Controversy makes good tv… hell live tv is always good tv also.