Unique Raksha Bandhan Gift Ideas
Raksha Bandhan is around the corner. The festival is unique and is meant to celebrate the bond shared between sisters and brothers. It is celebrated on the full moon day of the month of Shravan. A sister ties a Rakhi around her brother's wrist on this day and offers prayers for his well-being. In return, the brother takes an oath to be there for his sister in thick and thin and to protect her throughout life. After a special puja and the Rakhi-tying ceremony, the brother and sister exchange sweets and Raksha Bandhan gifts. Earlier, only elder brothers used to gift something to their sisters and giving some cash was the conventional return gift on Raksha Bandhan. Gradually, gift items, flowers and greeting cards have replaced the trend of giving cash.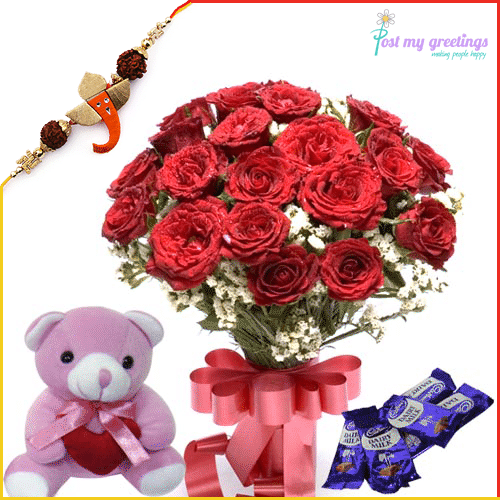 Every brother wants to gift something special on each Raksha Bandhan to make his sister feel special. Being a brother, you must also be looking forward to present something unique to your sister. Everything, such as the nature, age, likes and dislikes of the sister need to be considered while choosing a Raksha Bandhan Gift for her. This article is meant to help you figure out the best gift ideas for Raksha Bandhan.
Hobby-Related Gifts
If your sister has a hobby related to music, how about gifting some music CDs of her favourite singer? You can also enrol her name in singing or dancing classes if she likes both singing and dancing. In addition to this, offering musical instruments as Raksha Bandhan gifts is also a good idea, in case your sister is a music lover. For a sister who loves to cook or wants to be a good cook, nothing other than a recipe book will be the best gift for Raksha Bandhan. Whatever hobbies your sister has, there are numerous items that you can gift, so just keep that in mind while choosing a gift for her.
Fitness-Related Gifts
Fitness is one of the things that are highly compromised in today's life. Whether one is a student, a working woman or homemaker, married or unmarried, life is stressful and fast. So, a gift related to fitness would be a wise choice. You can find numerous fitness-related gifts in the market and on the web, ranging from low- to high-budget ones, as you want. Some of the Raksha Bandhan Gifts that you can offer to your health-conscious sister include fitness DVDs, yoga DVDs and fitness equipment.
Some Unusual Gift Ideas
If you want your gifts to stand out among others on this Raksha Bandhan, you can try some unusual ideas. Gifts like tickets or passes for seminars related to the domains of interest of your sister would be appreciated by her. These days, seminars on relationships, communication, time management and money management are conducted by numerous organizations and are highly useful for personality and overall development of the individual. Moreover, you can gift fixed deposits, financial policies, medical insurance, SIP accounts or calling cards (if your sister needs to replenish calling balance all the time).