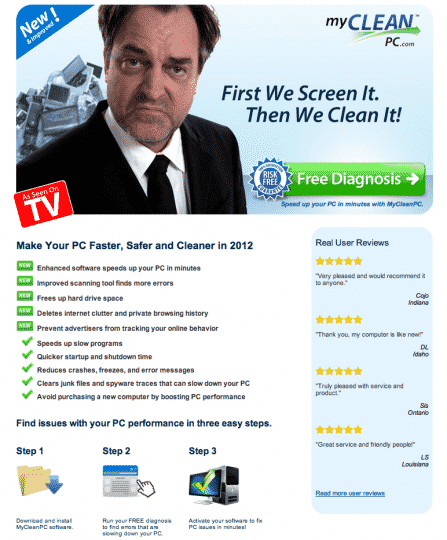 MyCleanPC Reviews –  Mycleanpc.com Scam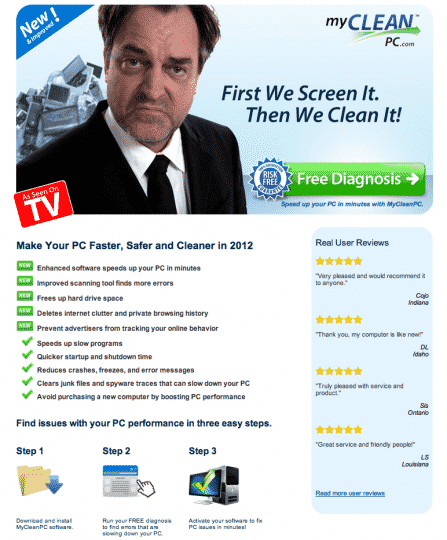 A MycleanPC review, what is this about? Well first off let me tell you a little bit about myself. I work at a medical school as an IT specialist and I have working in the IT field for 7+ years and I have two degrees in computer science.  MycleanPC is a company that claims to do a bunch of things for you and your computer such as make it faster, clean it, keep it up to date and there's nothing wrong with that. Everyone needs his/her clean pc. However the reason I am writing this mycleanpc review is because I don't think these guys are being truthful.
Now one thing in particular I don't like about the MyCleanPC commercial is that they don't tell you that your computer must first need to be able to get online. Let's say you are watching TV and this came on and for some reason you are having some virus stopping you from access the internet how exactly are going to be able to get to mycleanpc.com to download the trial version of their software?
There are many other ways to get rid of viruses, spyware and so on and some of them you don't need to pay anything for. For instance, Windows Defender, Malwarebytes, Spybots, free scans from Symantec, AVG and many others. So do you really want to try mycleanpc? If you choose to then go ahead but just make sure you read all of the mycleanpc reviews that you can find online.
Why does mycleanpc scream scams?
The mycleanpc scam works this way, they tell you to download the software that will tell you all of the things that are wrong with your computer. Which is fine but once you see all the things that are possibly wrong with your computer you will feel compel to buy their products and clean your pc. Now I think mycleanpc is a scam because there are nowhere on their sites they tell you how much you will be paying for the software.  The company might be a legit company but the way of doing business is very deceitful. Just like the credit card companies.
So would I ever use mycleanpc, no in a million years because I don't think it's worth the headache that will come with it? Check out this Ripoff report.
Again I as mentioned you can choose to go with them but just make sure you read all of the mycleanpc reviews that you can find online and if you are willing to pay for what they are offering. If not there are other anti-spyware, virus removal tools other that are well known and have been in business for years and they have all their pricing visible to you. No gimmick just solution for the problem your pc is experiencing.
Checkout some of the well-known companies that can be more helpful to your computer needs: MacAfee, Norton, Symantec, AVG and more….