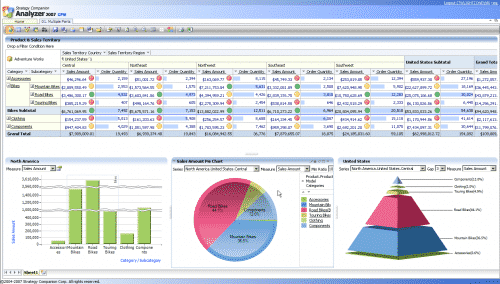 Business Intelligence Solution Review
2 months ago I did not even know what Business Intelligence was but after taking my class and doing research I think I have a good understanding of BI solution and some of the tools. In this review I will define Business Intelligence the need for it and will list some of the vendors and tools available.
The review you need on business intelligence (BI)
The mission statements for many if not all companies are to be the best and always strive to be the top competitors. The use of Business Intelligence has made this process possible, more efficient and faster. "BI is neither a product nor a system. It is an architecture and a collection of integrated operational as well as decision-support applications and databases that provide the business community easy access to business data." (Atre 4)
I have read and listened to a few business cases of universities making use of BI and how it has helped them grow and attained their current goals and pursuing their future goals. The universities that I read about had similar goals and are simply to provide the most effective way of accessing and retrieving financial, research and personnel student data from a centralized location. Also they want to do so in the most timely and efficient way possible.
Lastly they want to be able to generate reports and make them available to a number of users from all departments and background. Below are some of the universities and their needs and which BI implementation that worked for them.
The key factor that allowed these universities to implement the BI solution that I find were the need to have a centralized data that can be accessed and used to make better decision. The willingness to invest in such technology and solution was essential to the success of the implementation. Being able to allocate resources such as funds, personnel, time is a task that has to be calculated because the availability of these resources is crucial to the success of any project including the implementation of BI. Thorough planning is also essential to make sure that the scope of the project is understand and is attainable and these projects had the right plans and plans of actions.
Oracle BI (OBIEE) 11.1
– Oracle Hyperion 9
SAP BusinessObjects XI 4.0/FP3
SAP NetWeaver BW (+HANA) 7.3
Microsoft BI 2014
WebFOCUS 8.01 (IBI)
Style Intelligence 11.5
Yellowfin BI 7.0
Pentaho BI Suite 5.1
IBM Cognos Series 10.2
SAS BI – Visual Analytics 4.4
Board 8.1
MicroStrategy 9.4
QlikView 11.2
BizzScore Suite 7.4
JasperSoft 5.5
Tableau Software 8.2
Atre, Larissa T. Moss S. Business Intelligence Roadmap: The Complete Project Lifecycle for DecisionSupport Applications. Pearson Learning Solutions.