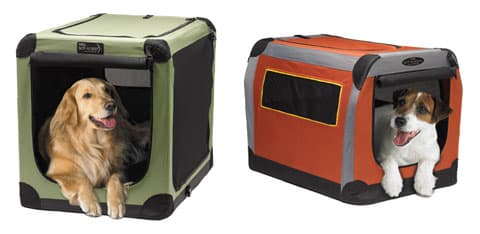 Taking your pet dog along with you when you are taking a vacation can be fun if you plan it well. A poor planning can ruin the trip both of you. So, make note of the things that you need to do when you are planning this vacation with your pet. Follow the 5 tips given below and make your trip a success –
1. Get An Identification Collar – The first step to a good plan is to get an identification collar for your pooch. You can also get a microchip. This collar or microchip will ensure that your furry friend comes back to you if he is lost.
2. Train Him To Behave Well – If you have already house-trained your dog and he obeys your commands, then you have nothing to worry. But, if you have been keeping him with you at all times, pampering him like a child, then start training him. It is for your pet's own good.
Set limits. For starters, don't let him follow you to the bedroom and jump up on your bed. Teach him pee control and buy a dog crate for this part of the training. Dog Crates are the best way to housebreak pet dogs. The size of the crate should be according to his height and length. He should be able to stretch, lie down, sit and stand comfortably inside the crate.
3. Plan Ahead – If you are traveling by car, then you should start planning well in advance. Given below are the following things you will need for the car trip–
a. A list of Veterinary hospitals and rest stops on the way;
b. Dog leash;
c. Dog crate
d. Seat belt;
e. Toys;
f. Treats;
g. Medications;
h. Medical Records;
i. Pet Clothing;
j. Blankets;
k. Trash Bags; and
l. Food and Water bowls.
4. Prepare Documentation – If you are planning to travel by air, then you need to know pet immigration laws and get the documentation ready. This is actually, the most difficult part. Instead of working your way through the red tape, get a pet passport that will ease the process.
5. Choose Airlines – Although numerous airlines transport pets, each of them has its own policies. Some don't allow certain breeds of dogs, while others have crate specifications. Check with the airline policy before you book the tickets.
6. Book In Advance – Since flights are expensive and pet seats are limited, you must book well in advance to avoid disappointment.
Apart from following these tips, ensure that the airline has a record of transporting the pets safely. Take your dog out for a long ride or play with him for along time before the travel so that he is too tired during the trip to suffer from any form of anxiety. Choose a pet friendly hotel and ensure that they have the proper amenities for your dog. If you feel that you have not be able to plan well, then it is best to leave him behind with a good dog sitter or at a pet hotel or kennel. It will be better for him.