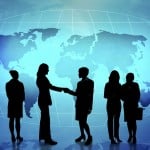 The business world is very competitive and as a new and upcoming business sometimes it will be a very difficult task to cope with the companies, which have been in business longer. The key to the start of any business is doing a lot of research on your current industry and your competitors. By researching you will know and understand what your competitors are doing are doing right and most of the time what they are doing that is wrong which may give you an advantage in that market or industry.
For instance, I started a small a web design business when I was 23 and it wasn't until last year 2008 I can honestly say that I have no complaints on the outcome. I had no knowledge really on what a business supposed to be. I thought just learning how to create websites by learning HTML, CSS, Photoshop and some other programs would be all that I need, boy was I wrong. Some of the things I found out during the course of the years have helped me a lot. However, if I had found any information really detailing this part to me before I started; I probably would be doing much better now. There are many steps and questions involved in the research process.
1.       Research your current industry and figure out the needs.
2.      Be specific in terms of location and target.
3.      Know your targeted audience.
How do I go by surveying my current industry, one may ask? Though it's a really time consuming process, it is very important. Find out exactly what your competitor is charging for their services, how they work with clients. You may choose to do the same or choose to customize to make it better suit your business style.
Business is global however, it's good at times to think about the bigger picture, however, being specific about your target could be best.  Currently I am in Miami Florida, I have to know be specific with my goals, which is to first find targets in the Miami area and then expand.
Knowing how your competitors work will be helpful to you, and then may give you a much better way of understanding your targeted audience. For instance, in the Miami area, not many Web Design companies provide onsite consulting services or visit. I find that information useful because I provide that kind of services. I have driven long distance at time to meet with a client to discuss their business needs and how we would be able to provide a solution to their needs.
In closing, researching your current industry and figuring out the needs, being specific with your market and location and knowing your targeted audience will help you to gain clients in a competitive market as a newly upcoming business. Also, one of the important things I found out is that dealing with clients can be one of the most difficult tasks. This is simply because at times clients change their minds in order to cope with those clients, please be really humble, understanding, and most of all patience.
The Online Market process, coming soon, Stay tune.
—
Sr. Project Manager